Current prices without prebooking
| | | | | | |
| --- | --- | --- | --- | --- | --- |
| Parking area | Per 20 min | Per hour | Per day | Per week | After 10 days |
| Short term | 30 | | 650 | | |
| P10, walking distance about 50m | 30 | 90 | 550 | 1990 | +150 per day |
| P11, walking distance about 150m | 30 | 90 | 550 | 1990 | +150 per day |
| P1, walking distance about 500 m | 30 | 90 | 350 | 1290 | +70 per day |
| P2 (outside), walking distance | 30 | 90 | 295 | 990 | +60 per day |
| P3 (outside) | 30 | 90 | 295 | 990 | +60 per day |
| P4 (booking only) | 30 | 90 | 295 | 890 | +40 per day |
| P5, P6 | 30 | 90 | 295 | 890 | +40 per day |
| Park&Go | | | | | |
Valid from 25.05.2022.
The car park is open 24 hours a day.
You can calculate what the cost will be for your parking:
Short-term parking
If you are picking up or dropping off passengers, you can use the short-term parking on either the arrivals or departures levels.
Frequent traveller?
It is possible to rent a space in the Onepark VIP section in parking area P10. You need a key card from Onepark for access.
Contact Onepark: oslo.lufthavn@onepark.no.
Order parking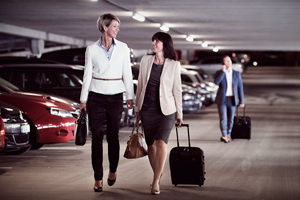 Book in advance and get the best price!