Prices at Oslo Airport are dynamic and vary depending on the day of the week and time of day. You can see the estimated price for your parking time at the entrance now, by clicking the link below:
The car park is open 24 hours a day.
Short-term parking
If you are picking up or dropping off passengers, you can use the short-term parking on either the arrivals or departures levels.
Frequent traveller?
It is possible to rent a space in the Onepark VIP section in parking area P10. You need a key card from Onepark for access.
Contact Onepark: oslo.lufthavn@onepark.no.
Order parking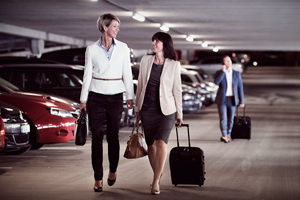 Book in advance and get the best price!