Avinor's activities impacts the environment locally as well as globally. We therefore take responsibility and work actively to reduce this impact. For several years, Avinor has worked actively with environmental issues. Consequently, there has been a comprehensive improvement in how the company works with environmental issues, over the last couple of years.
Avinor's environmental policy
Avinor will improve its environmental achievements and aims to be a driving force for environmental work in aviation.
Avinor has a process aimed at continuously improving its environmental performance and will work actively to reduce the group's environmental impact
Avinor complies with regulatory and internal requirements. Environmental management will comply with ISO14001 and secure systematic coordination and follow-up of environmental performance
Avinor will secure a high level of environmental awareness and competence in the group. Employees and partners at airports must understand the group's most important environmental aspects
Avinor will emphasize and integrate environmental considerations in early stage planning of projects and in procurement of products and materials. Development projects will be carried out with high environmental focus.
Avinor will conduct an open, constructive and proactive dialogue with partners, local community, authorities, aviation organizations and other stakeholders to reduce environmental impact
Avinor is seeking solutions for environmental challenges through cooperation with research and development institutions, authorities and other national and international organizations
Avinor's environmental strategy 2016-2020
Avinor's environmental strategy will contribute to defining the work with environmental issues and securing that the entire group work together to achieve Avinor's environmental goals. The designated direction will be the basis for priorities and environmental efforts throughout the organization.
The environmental strategy will contribute to securing systematic performance and continual improvement of Avinor's environmental achievements. It covers Avinor's most important environmental aspects, with particular emphasis on transport and climate, aircraft and helicopter noise, and chemical usage with discharges to water and soil.
Avinor's environmental goals
For the period 2016-2020 Avinor has a special focus on transport and climate, aircraft and helicopter noise, and usage of chemicals with discharges to water and soil.
Climate goal: By 2022, Avinor will reduce its controllable greenhouse gas emissions compared with 2012 by half as well as contribute to reducing greenhouse gas emissions from the affiliated transport services and air travel.
Noise goal: Avinor will work actively to limit noise levels (from aircraft and helicopter traffic) for inhabitants in the airport's proximity.
Water and soil goal: Activities at Avinor's airports will not result in new soil contamination or degraded environmental conditions in aquatic environments.
Energy target: Avinor will reduce purchased energy by 25% by 2020 compared with energy consumption in construction and construction in 2012
Further information about Avinor's work with climate, noise, water and soil is available on the theme pages. Unfortunately, these theme pages are currently only available in Norwegian.
Certifications
Avinor's environmental management is ISO 14001 certified. Avinor has a multisite certificate which include several airports. In near future all of Avinor's airports will be included in the certificate.
Five airports are accredited in the carbon management programme for airports ACA (Airport Carbon Accreditation). The purpose of the programme is to reduce greenhouse gas emissions from airports all over the world.
Questions
Airport managers will respond to environmental questions concerning their airport. Oslo, Bergen, Stavanger and Trondheim have their own environmental liaisons.
Contact Avinor for general questions about noise, climate, local air pollution, water and soil, energy, and environmental management.
ISO 14001 CERTIFIED
Avinor's environmental management is ISO 14001 certified.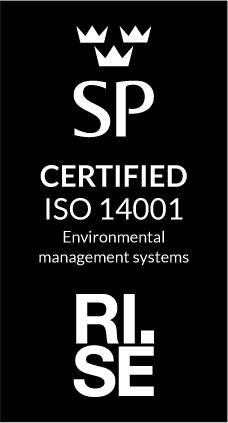 Airport Carbon Accreditation