The Nuart Festival is widely regarded as the world's leading celebration of street art. Since 2001 Nuart has been dedicated to commissioning and producing compelling and imaginative new forms of art in the public space. From the first week of September a team of international artists are invited to leave their mark on Stavanger, both indoors and outside, creating one of Europe's most dynamic and constantly evolving public events.
Endless Flight by Hama Woods
In a search for methods to communicate the importance and revival of nature, Hama Woods's stencils intuitively reflect on a sociological approach to greed and human consumption and its direct effect on our natural environment.
Her work demonstrate a reverence for nature and its innate connection to humanity, and is characterized by the use of hand cut, multi-layered stencils and spray paint. Her goal is to empower and challenge viewers to rethink the choices they make, and the effect of these choices on the world around us. She currently lives and works in Oslo.
Gone Believer by Snik
As stencil artists, Snik are traditionalists. Where others have moved on to the digital techniques, using laser cutting and computers to support their work, Snik have remained true to the origins of their craft. They still painstakingly hand cut their complex multi-layered stencils.
Snik's bold aesthetic is characterized by frozen scenes of dynamic action. Their work focuses on the ordinary, such as tangled strands of hair or the folds and textures of fabrics. These subtle aspects are elevated to hint to a deeper meaning. A meaning that remains elusive, for the viewer to draw their own meaning from.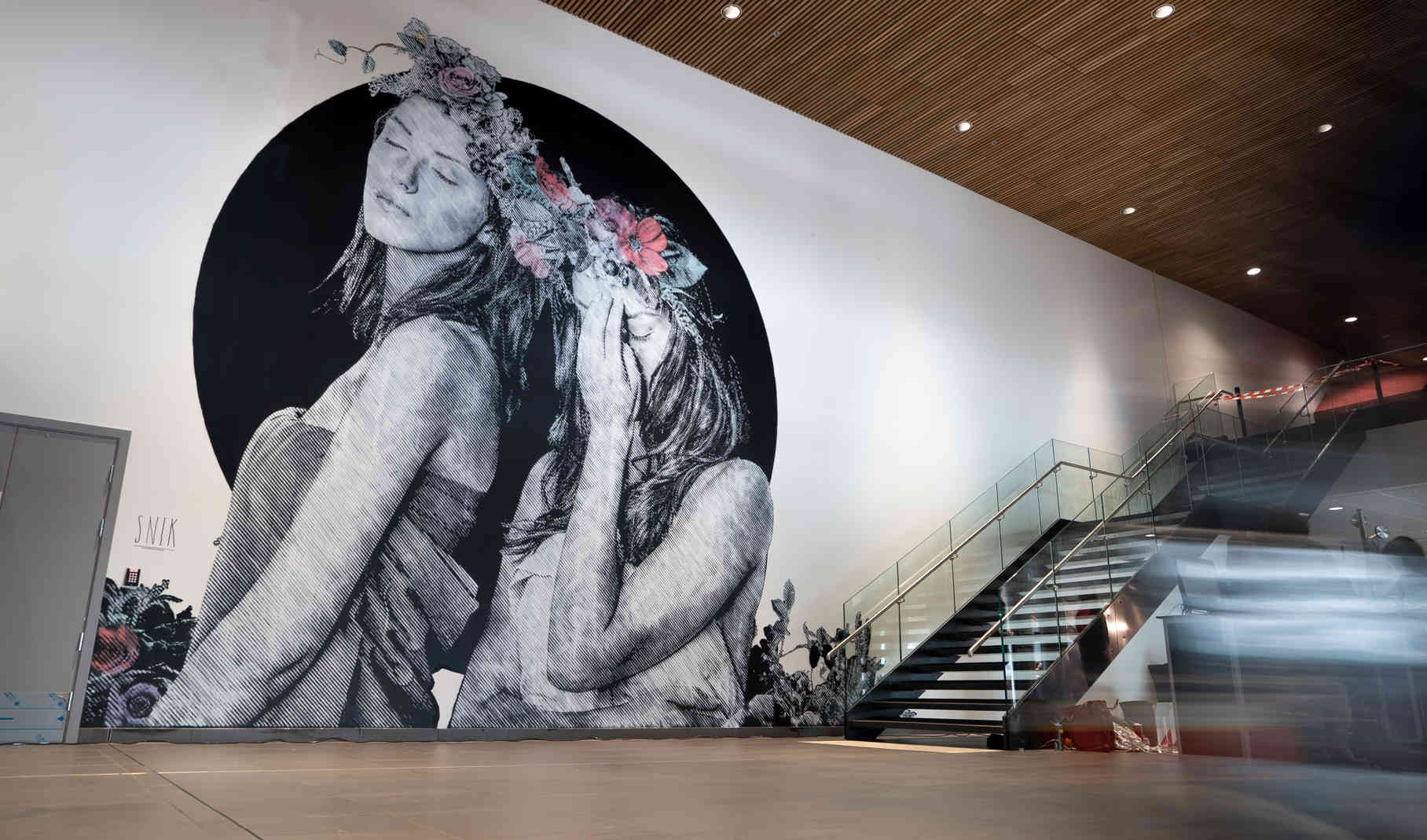 Control Tower by M-City
M-City, or Mariusz Waras, is an artist, traveler and amateur architect, which explains where his artistic precision and strength come from. He is based in Gdansk, but can be seen creating his striking murals all over the globe.
M-City's murals are rhythmic and very precise – an effect which is achieved by the technique of hand-cut stencils. He animates urban spaces with stories in which the main subject is the metropolis and its infinite evolutions. His production is characterized by two main distinct inspirations: video games and geopolitical issues.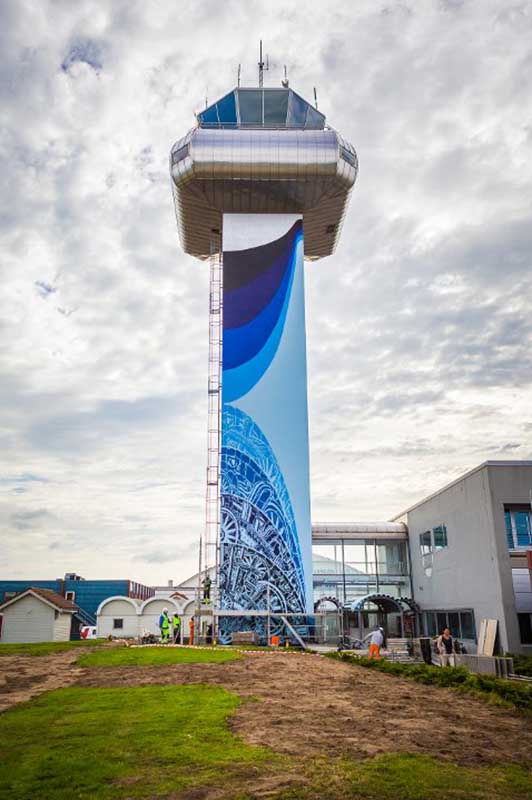 Chinook Hearts by Martin Whatson
Martin Whatson is a Norwegian street artist best known for his calligraphic scribbles in grayscale voids. Over the past decade, Whatson has developed an unmistakable aesthetic, combining abstract movement with figurative stencilled compositions. His works can be seen to mirror the rise and fall of the streets, as he symbolically recreates the urban environment, then vandalises it to reveal his vibrant transformations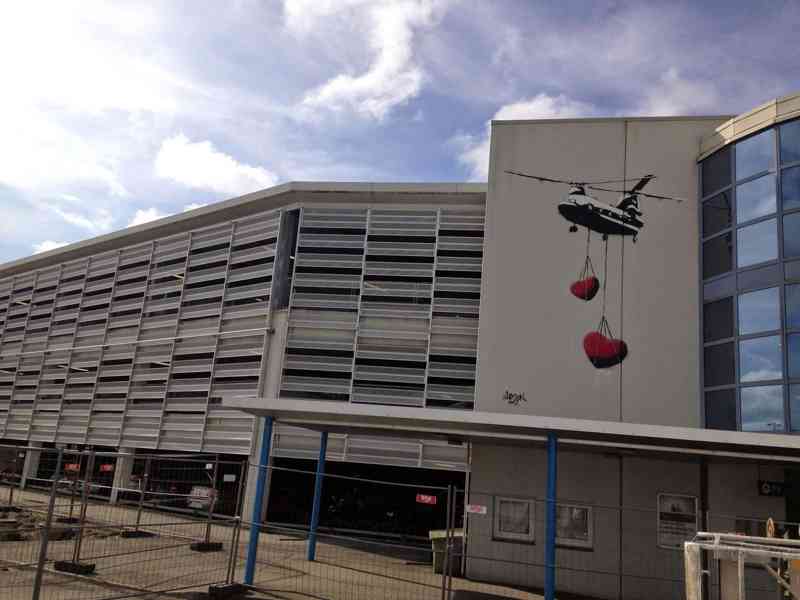 Disruption 04 by Add Fuel
Add Fuel is Portuguese visual artist and illustrator Diogo Machado. Fascinated with the aesthetic possibilities of symmetrical patterning and tessellations, he began working with and reinterpreting the language of traditional tile design, and that of the Portuguese tin-glazed ceramic azulejo in particular.
Disruption 04 is a dimensional and formal exploration of overlapped patterned repetition in a non-linear surface where two apparently familiar elements coexist in the same space. It is developed around the traditional Norwegian decorative rosemaling style found in the region of Rogaland.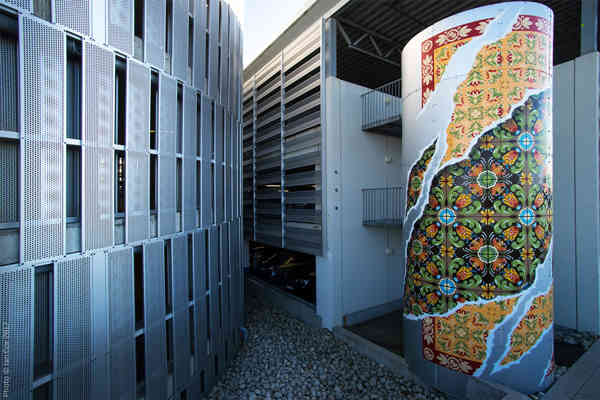 The Orchid Pink Runway by Louis Masai
Londoner Louis Masai's recent documentation of endangered creatures and raising of awareness of statistics, has on occasion been associated with activism. "I find this a bit daunting as I only see myself as an artist, but I definitely see the power of visual language and I'm enjoying using that power via my murals and the modern world of social networking," Louis says.
After Avinor Sola had built a tomato greenhouse inside one of the airport terminals, Masai was invited to decorate the wall next to the greenhouse. He painted bees, but also, after hearing about a rare and endangered wild orchid growing next to the runway, a huge heart shaped orchid for the bees to climb on.
Masai's endangered animals can be seen all over the world, and his bees have previously been exhibited at Hå gamle prestegård south of Stavanger. And now you can see them here at Sola Airport, Stavanger. Beehold!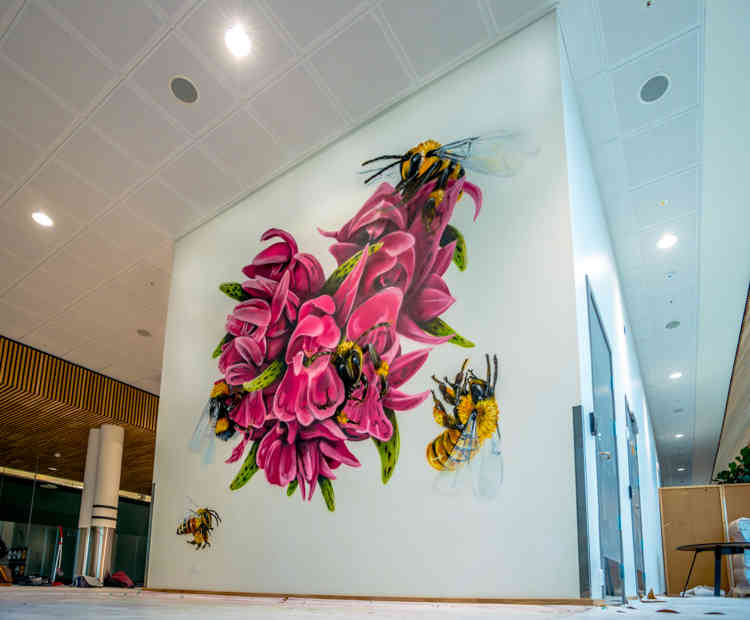 Map of artwork