Harstad/Narvik Airport, Evenes is the airport for Harstad and Narvik. Harstad is a base for the surrounding regions of Lofoten, Senja, Tromsø and Vesterålen. The terminal building was built in 1998.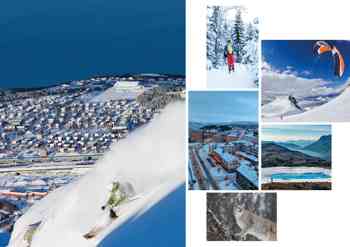 Northern Norwegians have always had a connection to nature. Northern Norwegians live in harmony and step with nature and the seasons. Many will experience the wild, untamed nature, and how culture and nature interact.
Tourism is important for Harstad and the service industry makes up a large proportion of the business community. The most important industry by far is the public sector, including the Norwegian Armed Forces. Evenes Airbase will house new maritime patrol aircraft, and will be the base of operations for F35 fighter jets once they are operational.
Agriculture is a major industry, with the headquarters of Nord-Norges Salgslag are here, as well as the dairy and the meat industry. Harstad and Kasfjord are home to the fish processing industry. Harstad is the centre of Northern Norway's engineering industry with many mechanical workshops, dockyards, and some of the country's largest dry docks. Harstad is also an important base for the oil industry in the region, and a number of oil companies as well as the Norwegian Petroleum Directorate have been set up here. At Stangnes, 5km east of the centre, a large oil base has been developed alongside port and industrial businesses.
Evenes is a great jumping-off point for experiencing Lofoten and Ofoten. Narvik and the Narvik region are home to many exciting and unknown places, experiences and attractions. If you are tempted to clime Stetind, or walk right across Norway, then look no further.
Wedged between high mountains and deep fjords, where the natural environment is rich in ingredients and unique flavours, the Narvik region has begun to establish itself as a culinary destination with a variety of restaurants and some of the area's best wilderness chefs.
Harstad and Nordland stand out from the rest of the country, which can be seen everywhere from nature to design, art, cultural experiences, activities, products, food and drink. This is what our travellers will experience at Harstad/Narvik Airport, Evenes.
Click here to open google maps