Norway is a country defined by large distances and challenging topography. Norwegian businesses are internationally focused and rely on aviation. Aviation is vital for homes, value creation, travel, the health system, education, sport and culture.
Two out of three Norwegians have access to an airport within one hour's travelling time. In Western Norway and Northern Norway, two out of three people can reach their nearest airport in half an hour. Aviation is vital for regional growth and for making regional centres accessible. It also plays a key role in Norway's decentralised education system. Aviation also plays a key role in Norway's health sector: more than 30,000 ambulance journeys are made by air every year. The hospital structure in Northern Norway is largely based on the frequency of air transport.
Aviation plays a key role in Norwegian tourism and is becoming increasingly important. The number of tourists who come to Norway by plane increased from 2.4 to 4.4 million visitors between 2011 and 2016. Aviation is particularly important for year-round tourism and the tourism industry in Northern Norway.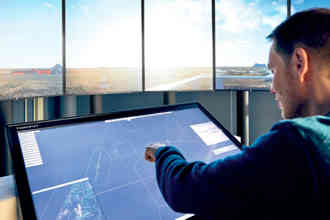 Varying traffic
Avinor is implementing a range of measures to modernise and streamline its operations, to ensure that its aviation business continues to grow. In partnership with its suppliers KONGSBERG and Indra, Avinor is introducing remote tower services at 15 airports, which will be operated from a tower centre in Bodø. The first five airports to have the remote service will be Røst, Vardø, Hasvik, Berlevåg and Meham. By the end of 2020, a total of 15 towers will be remotely operated from the tower centre in Bodø. Avinor intends to continue investing to make the service available to more of its airports.
The aim of this investment is to improve the quality and efficiency of airport operations. Many of the control towers in Norway are due for refurbishment or total replacement. Using remote towers will save some of these costs. In the future, it will also be possible for one person to control traffic at multiple airports from the same location. This is a tremendous opportunity to improve efficiency and reduce costs, and will enable us to continue providing the excellent air traffic service currently enjoyed in Norway.


A safe solution that you can trust
Any changes in the aviation industry are regulated by strict safety rules. Remote towers are required to provide a service which is at least as safe, or is even safer than the present service.
Avinor performs extensive safety analyses for every modification to systems or methods, in accordance with internal processes approved by the Civil Aviation Authority Norway. Before remote towers are introduced, their services must be accepted by the Civil Aviation Authority Norway and there must be documentation to demonstrate that they offer a level of safety that is equal to or better than traditional towers.
How remote towers work
A remote tower service means that the people who are controlling airport traffic are physically located in a tower centre, instead of in the airport's own tower. Cameras, microphones and other equipment are installed at the airport, which provide extremely detailed information about weather and activities at the airport at all times.
As passengers, you will not even notice that the airport has a remote tower, other than the fact that the airport is now equipped with a camera mast. However the staff who used to sit in the tower will now be located in Bodø.
For the pilots flying the planes, there are no practical differences in procedures. They will still talk to the tower personnel on the radio, as they do today.
A camera at the airport takes a 360° image of the airport, which contains more details than can be detected by the human eye. The cameras can zoom in on small details, show movements in images (e.g. birds), and also have an infra-red setting which makes it possible to see in the dark.
Every airport is connected to the tower centre via redundant networks. If one network should fail, the other can be used to connect to the tower centre. These networks are high grade networks used for aviation, and involve the use of both fibre cables and radio transmissions.
The tower centre in Bodø operates tower services at several airports. It houses the same staff who used to sit in the individual towers. With large screens, they have a full overview of every movement and operation at an airport, and can communicate directly with pilots and ground crews.