1 Introduction
1.1 Introduction to Terms and Conditions
These Terms and Conditions (the "Terms") apply to all purchases made via www.avinor.no and all other URLs operated by Avinor AS and its subsidiaries and suppliers for reservation of parking (together referred to as "Site"). The actual booking will be done on an Avinor site. Payment will be serviced by our supplier Nets. Please read the terms of the Site carefully.
1.2 Ownership of website
When you visit or use one of our websites, you accept that you can only do this for private use. It is illegal to copy, distribute, modify, publish, link or use any of the information contained on the website except for your own personal use, unless Avinor has given written permission to do so. Use of any tool to monitor or disturb our website is prohibited. You understand and agree that Avinor can exclude you from their site without prior notice if you abuse or violate the terms of use of the Site. Avinor can report abuse of its website to the police and take legal action to claim compensation for any financial loss or damage.
1.2.1 www.avinor.no
The website www.avinor.no owned by Avinor AS, a company registered in Norway.
Avinor AS | PO 150 | N-2061 Gardermoen | +47 815 30 550 | Company No. 985 198 292 MVA
1.2.2 Website for parking reservation
The website https://avinor.no/en/airport/oslo-airport/parking is operated by Avinor AS for purchase of parking reservation at Oslo Lufthavn Gardermoen. Avinor owns the parking areas at its airports, including Oslo Lufthavn Gardermoen. Agreements for parking are made with the Merchant. Avinor owns the customer database.
1.3 Merchant
Onepark AS operates parking at Oslo Lufthavn Gardermoen and is the merchant. Onepark AS is also responsible for customer care and the contact center for parking reservation.
Phone: (+47) 64 81 19 80
E-mail: oslo.lufthavn@onepark.no
1.4 Other abbreviations
In these conditions "airport" means the airport you have ordered at (i.e. parking areas at the relevant airport). "You" and "your" refers to the person who carries out an order on the Avinor website. "We" and "us" refers to the Merchant and the current airport, as described above. The purchase agreement has thus been made between "you" and "us".
2 General provisions for advance notice on our website
2.1 Approval of purchase is considered as acceptance of conditions
By using the website to book a parking space, you accept the terms. If you breach these terms, Avinor may exclude you from the website and / or report the crime. The terms will always be available throughout the buying process.
2.2 Minimum and maximum parking time
The minimum and maximum parking time varies from product to product. After entering your desired parking time, the system provides the optimal offers for your parking time.
2.3 How early / late in advance can orders be made
Generally, a reservation can be made up to 5 hours before the parking starts (parking start = entering the car park). Note that some products will have a different timeline.
2.4 Reserved space
When you pre-book, there will always be space for your car in the parking area ordered. However, a specific space is not allocated. We therefore urge you to park in the first available space that is not marked as "reserved", HC or electric car (unless you have valid permission to stand there).
Fees are to be paid for electric car and vehicles with HC permission also. Violation of this may involve fines and removal of vehicles. The parking operator is responsible for fines and fees related to tow-away / detention.
2.5 Parking area signs show full / closed
Although signs to a parking area shows full or closed, there is space for pre-booked customers.
2.6 Foreseeable good time
In high traffic periods as summer, Easter and Christmas, we recommend that you plan some extra time for parking, as the activity of the different parking areas may be higher than normal. See also section 4.4.
2.7 The order belongs to you. It is not possible to pre-book parking in someone else's name.
A booking cannot be transferred from you to another person, or to another airport or parking outside the airport.
2.8 Time - Validity of order
The order is valid only for the date / time / parking area and the airport specified in your confirmation. If you park beyond the time that is pre-booked (either before or after your pre-purchased parking time), additional parking fee according to the tariffs applicable will be accrued.
3 Order confirmation and receipt
When you book parking via the website, you will receive a confirmation / receipt to the email address you provide. All details for your order will be stated. The email will contain your receipt and a unique booking reference number. The booking number is given both as a text and as a QR code. The QR code is to be presented to the barriers at entry, so it is very important that you have your reservation confirmation when you arrive.
The following chapter describes how to use the QR code to access the parking area when arriving and leaving the airport. The transaction on your invoice or receipt from the bank, be marked "Onepark Park.OSL Lufthavn".
4 How to use a booking
4.1 Prices given on the website
The parking areas and products are priced per full 24-hour days. Prices are dynamic and may change without notice due to changes in capacity / supply / demand. The price you have received is valid only at the time of booking and for your choice of time and date. All prices on the website are given in Norwegian kroner and include VAT at the prevailing rate.
4.2 Overstay
If your entry or exit times changes from what you ordered (e.g. if you arrive much earlier than specified in the order, or exit much later than booked), an additional payment is required. This additional fee is calculated on the total overstay time. The difference charged is the normal price for the time at the specific parking area. Normal price and time intervals are available at the entrance to the parking area and or on our website. The difference must be paid before leaving the parking area. Note that this applies regardless of the reason you have extended parking time. See also section 2.6
4.3 Entry procedure
When arriving at the parking area where you have booked space, it is important that you follow the instructions on your order confirmation.

A. At the entry barrier, please scan the QR code on your booking confirmation. The code allows the parking system to recognize your booking. Please be prepared and have your confirmation available.

B. After scanning you QR code, the parking system will produce a ticket. Please take care of this ticket, since it will be your exit ticket. When exiting the parking area, please insert put the ticket at the exit barrier.

C. If you have overstayed your pre-paid parking time (see section 4.2), the additional fee may be paid directly at the exit barrier. Please follow instructions on exit barrier's display.

4.4 Your vehicle is left at your own risk
We ensure that areas are as secure and safe as possible. Nevertheless, we cannot guarantee at 100% safety / security at the parking areas. Once you have parked your vehicle, it is your responsibility to:
A. Lock it properly
B. Close windows / doors / trunk and similar
C. Put on hand brake or Park gear
D. Put on any alarm, steering lock and similar
E. Empty your car for animals / pets or people
F. Ensure that any belongings are placed in a locked compartment and not easily visible
G. Ensure that the vehicle is legally insured
We will not be liable for any loss or damage to vehicle or assets if the instructions above are not followed. We are not liable for:
A. Damage to your vehicle (whether unintentional or vandalism)
B. Theft of or from your vehicle while it is parked
- unless such damage or theft is caused by negligence of Avinor, and then only to the extent that this negligence directly caused the damage / theft. Any damage or theft of your vehicle that happened during your stay must be reported to the Merchant's staff before leaving the parking area. There is an intercom at all parking areas.
4.5 Conduct at the parking area and the airport area at large
Please drive carefully and responsibly at the parking areas and airport areas in general.
Please ensure that children and animals are supervised at all times when they walk in the parking facilities and the surrounding area. There is a lot of traffic at an airport.
Please comply with all signs and other instructions when you walk in the parking area and on the airport's areas in general.
4.6 Vehicles that are not collected after parking time
If you cannot retrieve your car before 30 days after exit date stated on your order confirmation, please contact us and specify the following:
A. Vehicle registration and other characteristics
B. Parking area and approximate location on the site
C. Why you were prevented from retrieving the vehicle, as well as information on your expected date of retrieving it
D. New contact data (phone, address, e-mail) if they are changed from the original order
If we do not receive (in writing) notice as mentioned above, the car is considered as abandoned. We will be then be entitled to tow away the vehicle at owner's expense and charge the owner's credit card for both the tow-away costs and the elapsed parking time.
4.7 Arriving at the terminal
Parking areas are located geographically in different locations relative to the terminal.

A. On avinor.no and on your booking confirmation, you will find a map of the airport. If you are unfamiliar of the airport area, print the map so you know where to drive and go to reach the terminal.

B. Please note that you will have to set aside appropriate time from the parking area to the terminal. Estimated normal distance / time is specified on the website. Also set by time to find both parking area and a free space there, unpack your car and lock it. In high traffic periods (holidays and summer) it is advised to set aside extra time.

C. We are not responsible if you miss your flight or check-in, if you have not set off adequate time. If you are uncertain and need an estimated total time or additional information, please do not hesitate to contact Avinor.
5 Amendment, cancellation and refund
5.1 General cancellation and amendment
You may cancel or amend your order via the website. Click "Manage booking" on the website and follow the instructions. Please note that not all products can be cancelled or modified.
5.2 Deadline for cancellation and amendment
You may cancel or modify your booking up until 24 hours before the original booking's arrival date and time.
5.3 Fee for cancellation and amendment
Some parking products (preferably promotional products) have fees for cancellation or changes, while other products have none. Detailed information regarding the individual parking product will be clearly defined on the website.
5.4 Refund or additional fee
When you amend / cancel a parking product, you may get a refund money or pay an additional fee.

A. Refund of parking fee at time of cancellation
Once your booking is cancelled (ref. Section 5.2), you will receive a refund of the paid parking fee. Any cancellation fee will be deducted before reimbursement. Your online order will be updated and you will receive confirmation by email. Cancellation later than 24 hours before booked arrival will not be refunded.

B. Refund of parking fee on amendment
Amendments must done 24 hours before booked arrival ref. Section 5.2. Amendments with a SHORTER parking period than the original booking may result in a refund. An amendment fee may be calculated, depending on product. This will be clearly described on the booking confirmation and on the website. Changes with an EXTENDED parking period will not have an amendment fee, only a charge for the extra parking time you book. The extra parking time will follow the current price at the time of change.
5.5 Refunds methods
A. No refunds will be made after the entry date defined on the booking confirmation or if you have not followed the procedure described above.
B. Parking time booked but still used will not be refunded unless you have changed the order according to the above-described procedure.
C. No refunds will be made unless you have a prepaid booking reference with a valid reference number. Refunds will be made exclusively to the debit / credit the original payment was made with.
D. No other refunds will be made beyond those described in these terms.
5.6 Fees for payments with debit and credit cards
We are not obligated to refund fees for debit or credit card use. Such fees are charged by credit card companies to cover their administrative costs. The extent of any such costs will be clearly given before the booking is confirmed and will be shown as part of any management fees or cancellation and change fees.
6 Cancellations from Avinor/Merchant side
If we were to cancel your reservation for a cause we can control and not due to an event beyond our control (see paragraph 7 below), we will refund the received purchase amount to you on the credit card used for the booking.
7 Events beyond our control
We assume no responsibility for events that result from an event beyond its reasonable control. Examples of such events include war, riots, terrorist threats or activity, labor disputes, natural disasters, fire, adverse weather conditions, government regulations / initiatives and / or cancellation or alteration of the airlines' flight plans. We will not make any changes to or cancel your order in such an event. You are responsible for changes or cancellations in the usual way on the site (described in Section 5). We are not obligated to refund of payments in this respect.
8 Our responsibility
We will act with reasonable skill and care when we provide our services to you. Nothing in these terms limit our responsibilities in cases of death or personal injury caused by our negligence.
We assume no liability for indirect or consequential loss such as loss of profits, loss of customer satisfaction, loss of revenue, loss of data etc.
9 General
9.1 Governing law
All purchase agreements made between you and us through the website are subject to Norwegian law.
9.2 Amendment of Terms
We reserve the right to change these terms should there be a need for this. Nevertheless, the terms posted at the time of reservation are applicable for that booking. Please do not assume that the terms that applied at an earlier occasion are still in force on your next order. We therefore recommend that you always read these terms before a new order to make sure that you accept them.
9.3 Completion of the purchase constitutes acceptance of the terms of the website and order
A completed purchase on our website confirms that you have read and accepted our terms. These terms constitute the entire agreement between you and us related to the sale.
9.4 Terms in special situations
These terms are valid for the normal products offered on the website. Specific terms and conditions may be used for competitions and promotions that we can run on the site from time to time, as well as specific products and services sold through this website. Such specific terms and conditions will be clearly posted.
9.5 Special parking offers
Special parking offers (campaigns) imply a specific reduced price for a given product for a given period. A campaign will also have a limited duration. Our marketing communication should always be clear on these criteria and how services are provided:
A. It is not possible to achieve the advertised price outside given the campaign period
B. Please note that promotional product can be sold on the site in parts of the promotional period (parking is driven by availability - we may be sold out)
C. Heavily discounted promotional fares may mean you are unable to change or cancel your order, unless you pay a fee equal to the difference to ordinary parking.
9.6 Official airport parking
All parking sold on the website is Avinor's official airport parking.
9.7 Barriers and parking control
All parking purchased on the site is governed by the airport's parking system and barriers. This means that there is no automatic control of the parking areas. If you park in a reserved space (HC, electrical cars etc.) without being entitled to, you will be fined. Reserved spaces are always well marked.
9.8 Norwegian standard parking terms
The "Standard parking Terms" (see www.parkeringsklagenemnda.no) govern all parking at Avinor parking areas. Use of our parking areas are considered as acceptance of these terms. Avinor's terms and conditions (these terms) prevail if there is any conflict between these terms and the "Standard parking Terms".
10 Privacy, data security and availability
Any personal information you provide when you use this website will be used in accordance with our Privacy Policy. By using the website, you accept our privacy guidelines and terms. Our privacy guidelines and terms are found on the link "Privacy".
Order parking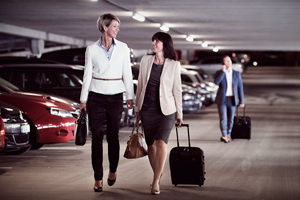 Book in advance and get the best price!
Map parking