Kristiansund Airport, Kvernberget has three parking areas, P1, P2 and P3.
P1 - Long or short term - closest to the terminal
This terminal near p-space has 70 parking spaces.
P2
Turn left at the intersection of the airport. Here you will find about 280 parking spaces.
P3 Low price long term parking
Just North of the Airport you will find P3 with approx. 50 parking spaces for long term parking. Minimum Payment is one Week.
Parking P3 is closed from 20 May - 20 June 2021. Vehicles that are still on P3 after 20 May will be removed at the owner's expense. P2 is used during this time.
Parking for disabled people
In the parking lot P1 you will find seats reserved for people with disability. These places cost the same as other places on P1.
Order parking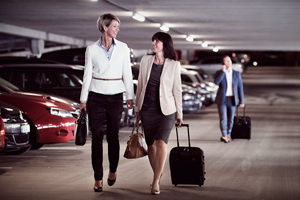 Book in advance and guarantee space!