The current airport was opened in 1998 and was built to handle 17 million passengers annually. In 2013, nearly 23 million passengers flew to and from the airport. April 27, 2017 was the official opening of the new Oslo Airport, which now can handles 32 million passengers a year.
Environmental role model
Oslo Airport places strong emphasis on protecting the environment and sustainable solutions for both the expansion project and operation of the new facilities. The objective is that the expansion will provide the most climate-neutral facility possible, and be an environmental role model.
Increased use of renewable energy will be facilitated. The sound environmental solutions that we are familiar with today at the airport will be further developed.
The absolute requirement that groundwater must not be contaminated as a result of activities at the airport remains in place.
A major hub for the rest of the country
Oslo Airport plays a crucial role as a hub in Norway's aviation system, and as a hub for many direct international flights. This also applies to air cargo. Large parts of the country, particularly rural areas, rely on a well-functioning main airport with a well-developed network of domestic and international routes. The capacity increase will strengthen Oslo Airport's importance as a hub for the entire country, and will be particularly important for rural areas.
Brief history
Planning of the new major expansion of Oslo Airport started in 2007 in close collaboration with airlines and handling companies.
In March 2008, the board of Avinor chose the design concept and location of the new central building and new pier with aprons.
In January 2009, Oslo Airport signed a contract for the delivery of project and construction management with Advansia.
On 12 February 2009, the board of Avinor chose the project team Team_T to design the capacity increase at Oslo Airport. Team_T consists of Nordic — Office of Architecture assisted by NSW architects, Cowi, Norconsult, Aas-Jacobsen, Ing. Per Rasmussen and several subcontractors. The preliminary project was completed on 4 February 2010. It was developed in close cooperation with OSL's project organisation, Advansia's project management and Team_T.
June 2010 saw the start-up of the first minor construction work and other preparations.
The project was approved by Avinor's board on 19 January 2011.
The main expansion project started in the spring of 2011.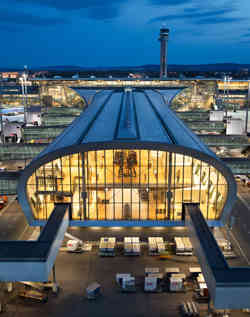 Project owner:
Avinor AS
Principal:
Oslo lufthavn AS (OSL)
Architect and Advisers:
Team_T AS
Narud Stokke Wiig Arkitekter og Planleggere AS
COWI AS
Norconsult AS
Aas-Jakobsen AS
Per Rasmussen AS
Construction start:
2011
Completed:
April 2017
New terminal space:
117 000 m²
Cost framework:
NOK 14.05 billion
Capacity:
32 million passengers
Aprons:
11 new bridge-connected aprons,
10 new remote aprons