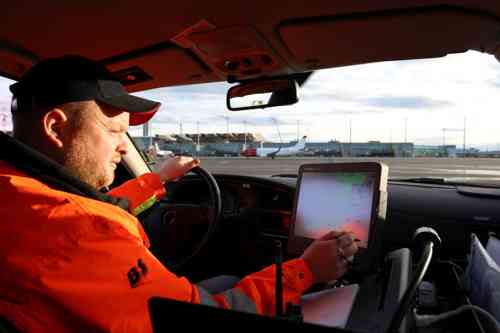 Anders Erlandsen is an everyday hero with eagle eyes and a taste for speed. We get into a car and ask the tower for permission to go for a spin on the runway - where drivers are never caught in speed traps. We got the green light.
Pedal to the metal
"Requesting permission to drive freely," says Anders into a microphone. He sits in the front seat of a so-called brake vehicle, a bioethanol-powered rebuilt Saab with a computer in the passenger seat and extra wheels under the hood.
"Permission granted," crackles the car speaker. The tower grants permission to drive as we wish on taxiways and runways at Oslo Airport. Anders is making a runway report.
He evaluates the surface conditions and friction, and punches in the information on the touch screen mounted in the passenger seat. It's dry and there's no cause for worry. He steps on the gas and I feel my blood racing. The speedometer reaches levels I've never seen anywhere else than on TV.
"There aren't really any speed checks out there," chuckles Anders to the somewhat nervous but enthusiastic airport journalist in the back seat.
Then he slams on the brakes. He has spotted something on the runway that's not supposed to be there, and says he has to pick it up. He turns the car around, opens the door and picks up a stone, small enough to be an irritation if it got in your boot, and big enough to get Anders to slam on the brakes and decide whether to remove it.
"I notice that I've developed eagle eyes after a few years in this job," he says.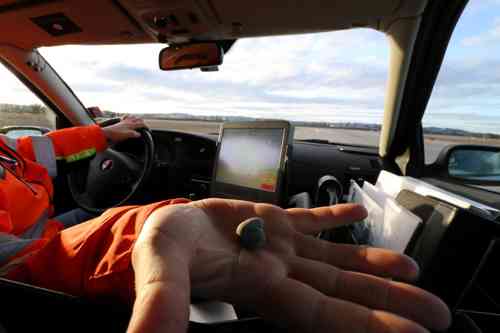 "The snowploughs are my babies."
Anders Erlandsen has been given the honourable assignment of being the public face of the airport service in newspapers and on posters as part of Oslo Airport's Everyday Hero campaign. The campaign spotlights employees who work at various places around the airport and keep the wheels turning.
In the advertising image that rolls across screens at the airport and in the media, Anders is seen posing by the airport's prized possession, the world's largest rotary snowplough. We drive into the garage to take a look at it.
"I don't drive the snowploughs as much anymore, but they're kind of my babies, so I stop by once in awhile to give them a pat," he says. He talks enthusiastically about snow removal patterns and runway checks, wheel loaders, sanders and sweepers. But what really gets him going is the good working environment he is part of.
"It's a very social environment, we work well together and I love my job."
152 hours to wash
Anders is a member of one of the airport and maintenance service teams at Gardermoen. Previously, he served with the Norwegian ISAF force in Afghanistan and has experience from the airport in Kabul.
The airport service department at Oslo Airport consists of five teams, each with 27 members. While Norwegians in general have an avid interest in the weather, there are few who check yr.no as often as those who work for the airport service.
They are perhaps best known for their famous snowplough train, and the elegant art of clearing a runway of snow in 15 minutes. But what do they do when it doesn't snow, like today?
"In addition to snow removal we are responsible for maintenance. It takes 152 hours to wash and polish the world's biggest snowplough, and there are around 100 different types of vehicles that have to be washed. That adds up to a lot of hours, so there isn't exactly that much dead time even when it doesn't snow," he says.
"No two days are alike. I enjoy my job because I feel I have an important mission in helping to keep flights running on time.
In this job, it's also important to be prepared, and allowing for all that can happen takes a lot of time. Something unexpected always pops up, and when it does we have to be solution-oriented," he says.
Solution-oriented is one of the attributes that characterise Anders, if we are to believe his co-workers. He's the type of person who takes responsibility and has control, and isn't uncomfortable with being a leader.
Poster boy
When we asked the guys in orange jackets and safety shoes what they think about Anders becoming a "poster boy", they joked: "It's bound to go to his head, so it'll be our job to put him in his place," and "It's just matter of time before he turns into a prima donna, so we'll just have to make sure he keeps his feet on the ground."
Then they discover that I'm writing down what they say, and the jokes stop and the serious talk starts. Anders' co-workers pile on the compliments.
"OK guys, that's enough." Anders is ambitious, so it's no wonder he was selected to represent the teams. He wants everyone to do their best. He's capable, he follows through and he knows what he wants. He's in control, is solution-oriented and takes responsibility.
From night watch to photo shoot
Personally, Anders thinks it's fun to have his face plastered up everywhere, and if anyone thinks he looks tired, he has a good explanation.
"I had night duty the night before the photographer arrived to take pictures. So I went straight from night duty to standing and smiling for 4-5 hours at all sorts of angles and poses. That's why I look a bit tired," says Anders, laughing.
By Susanne Egset, information consultant at Oslo Airport