Underserved air cargo market
Norway is the heart of the Nordic air cargo market, with a whopping 45% of all air freight in the region originating from here. This position comes from consistent growth, as volumes have been rising at over 10% annually since 2006.
Yet, Norway is a severely underserved air cargo market. The lack of direct belly and freighter capacity remains a challenge for Norwegian exporters. For example, only 35% of Norwegian seafood exports are flown directly out of Norway by air. The rest, often bound for Asia, Africa and North America, is trucked down to continental Europe to find available outbound air cargo capacity. In addition to the seafood industry, Norway's oil and gas and maritime sectors also provide significant volumes to the general cargo market in and out of Norway.
Martin Langaas, Director Cargo at Avinor, says Norway has unmet demand for air cargo capacity . "We can guarantee a full belly load of cargo for any new scheduled intercontinental scheduled routes to the largest hubs in Asia, Africa and North America from Avinor Oslo Airport," says Langaas. "By utilizing the cargo volumes from Norway, we aim to increase profitability for the current and new airlines operating at Avinor Airports."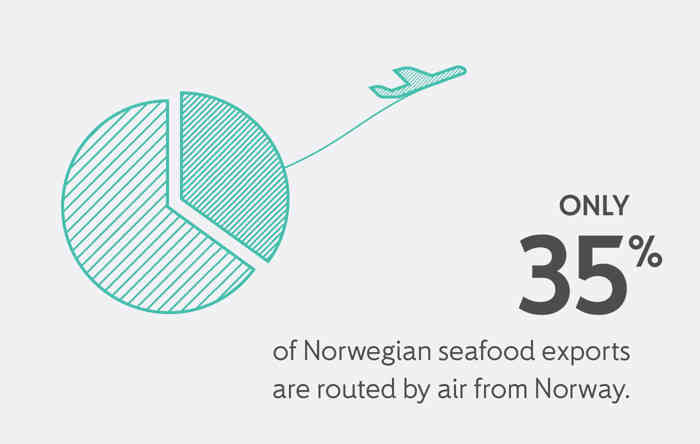 Prime opportunity in seafood
More growth in Norwegian air cargo volume is expected in the future, driven by the highly developed seafood sector in Norway. The world's largest seafood companies are based in Norway, making it the leading global centre for aquaculture and fishery innovation. Not surprisingly, Norway is the leading exporter of seafood globally, measured by value. In 2015, Norwegian seafood exports totalled NOK 74 billion, or roughly € 7.7 billion. In operational terms, this means a daily volume of 600 tons of seafood products airfreighted to Asia, Africa and North America.
"Seafood is an ideal air cargo commodity", says Langaas, "It generates huge and steady volumes of highly perishable cargo, with little or no seasonal variation".
But that's just the beginning, as seafood exports are riding on significant global megatrends. The world's population is growing, particularly in countries where people's living standards are improving. This is increasing the demand for food commodities, especially proteins such as seafood. As it turns out, seafood is a highly affordable and environmentally sustainable source of protein. Clearly, Norway's ocean fishing and fish farming sector is in prime position to export even more of its products in the long term.
Salmon boom
In some product areas, the projections are staggering. Perhaps nowhere is the expected growth more dramatic than in Norwegian salmon, which is already the largest air cargo commodity in Europe. Yet, salmon exports from Norway are expected to grow by 500% during the next 20 years. "Salmon requires the shortest transit times, which favours direct air services from Avinor Oslo Airport, our main national air hub in Norway," says Langaas.
According to analyst Paul Aandahl of the Norwegian Seafood council, salmon prices are rising steeply, which means the strongest demand for airfreight capacity for salmon right now are higher income regions. "We see a huge growth in the places like the USA, Saudi Arabia, Iran and South East Asian countries such as like Malaysia and South Korea. In the longer term, India also has huge potential," says Aandahl.
Broad growth in seafood exports
Opportunities in seafood cargo stretch far and wide, with a huge diversity in the products exported. These include trout, herring and mackerel, among others. Data from the Norwegian seafood council shows that Norway has also exported NOK 10.3 billion (€1.14 billion) worth of cod, saithe, haddock and other deep sea fish during the first 9 months of 2016. This is an increase of 9 % over the same period last year. "The growth is mainly due to increased volumes of fresh and frozen products", says Ingrid Kristine Pettersen, also an analyst with the Norwegian Seafood Council.
Other seafood exports from Norway include shellfish, such as crab, mussels and coldwater prawns. Crab, in particular, has been a breakout product in 2016. Total crab exports from Norway of NOK 731 million (€80.9 million) were recorded by September 2016, an increase of 89 per cent over the same period last year.
Cargo market development support
A strategic approach to market development is important in building a case for cargo routes, according to Aandahl. In many markets, the typical pattern is that initially the seafood import are mostly frozen products. As the distribution and retail infrastructure develops, then exports of fresh seafood take off. Here, the Seafood Council is ready and able to help with airlines. "We are active in food industry events where importers and exporters meet," he says. "So we have the marketing presence, infrastructure and insights, to support airlines with their entry into new seafood cargo markets."
New seafood cargo terminal
Avinor and the Norwegian Seafood Federation are also playing their role in expanding the air cargo infrastructure at Avinor Oslo Airport. This month, both parties have announced a feasibility study for a world-leading 15,000 square meter export facility designed around the needs of seafood exporters.
Want to find out more about cargo opportunities?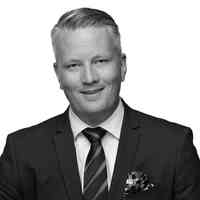 Contact
Director Cargo
Martin Langaas
"We can guarantee a full belly load of cargo for any new scheduled intercontinental routes to the largest hubs in Asia, Africa and North America from Avinor Oslo Airport."
– Martin Langaas, Director Cargo, Avinor.
Links: