Norwegian in America
Norwegian Air Shuttle launched routes to the USA at a time when the American economy was just emerging from recession and the airline industry was beginning a series of major high-profile consolidations. The domestic US airline industry was well-defined and although frequent flyers may have been loyal to a specific alliance, the product was becoming commoditized as more Americans were looking to travel. Norwegian brought to the market a high-quality product at a surprisingly low price, disrupting the transatlantic market with their brand new Boeing 787 Dreamliners.
However, despite these opportunities, the product was still unknown to American travellers and the carriers' lack of participation in alliances or interline agreements meant significant levels of awareness and positive associations needed to be built from the ground up.
Stronger together
For Norwegian, partnering with Avinor and Innovation Norway, the official tourist board of Norway, was a natural fit, allowing all parties to amplify their voices in the US market. Innovation Norway and Avinor joined forces with Norwegian, to pool resources and bring in relevant travel partners to help bolster the message across the industry. This allowed Innovation Norway to not only inspire travellers to visit Norway, but also provide a concrete and surprisingly affordable way of getting there right now. Avinor also contributed significantly to the promotion effort.
Innovation Norway used its market knowledge and existing relationships to define the best marketing opportunities to promote Norwegian and Norway together. As these tactics were shown to be effective, Norwegian was able to take on more of the burden itself investing more marketing dollars directly with media partners such as the New York Times.
Innovation Norway and Avinor have been a dynamic marketing partnership, airlines with routes to Avinor Oslo Airport. Fittingly, this cooperation was recognised with the "Best Destination Marketing" award at the Routes Europe conferences in 2014 and 2015. The award is one of the airline industry's most prestigious, for marketing destinations and routes. Innovation Norway and Avinor were voted to the top by a panel of judges representing international airlines.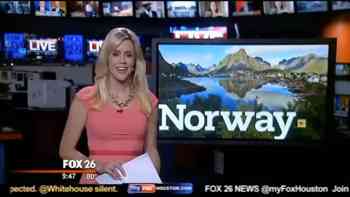 Photo: Fox 26, News @ 9.
Frozen - a game changer
Disney's animated film Frozen was the catalyst, driving a record increase of 31% in travel to Norway from the USA during 2014. Norwegian was able to capitalize on the partnership put in place between Innovation Norway and Disney, to immediately reap the benefits of the massive media attention. The airline's long term market penetration strategy in the US perfectly aligned with the tremendous marketing buzz generated by Frozen. Four new gateways in the USA were opened, just as demand for Norway exploded, with tour operators in Norway reporting a six-fold increase in sales from the US.
"There are important lessons to be picked up here," notes Hege Vibeke Barnes, who plays a dual role as Director of both Innovation Norway's New York City Office and Visit Norway North America: "It's important to think big and look to ride cultural waves," says Barnes, adding: "But you don't have to do it alone. Partners can help provide insight, relationships, new capabilities – and share risk."
Attracting new target groups
Norwegian's aggressive entrance and innovative co-marketing efforts in the USA quickly redefined the air travel market to Scandinavia. Legacy carriers were forced to improve and innovate. This lead to a decrease in ticket prices, improvements to product and increased routes and frequencies. The changes also had an impact on the traveller profile, producing higher than expected share of American travellers on the route.
"Norwegian's willingness to focus on awareness building and branding (rather than further down the funnel conversions) allowed us to expand the market together. This opened the destination for entirely new target groups, including families and younger travellers," says Barnes.
This view is shared by Norwegian Air Shuttle as well, according to Lasse Sandaker Nielsen, Vice President Corporate Communications, for the airline. "Norwegian's non-stop flights between the US and Norway have been very well received by travellers on both sides of the Atlantic. Our affordable fares have enabled scores of Americans to experience Norway and Europe," says Nielsen. He also confirms the value of the partnership approach to marketing, adding: "There is no doubt that our partnership has increased the public's awareness about Norway as a wonderful destination and Norwegian as the airline that will get you there comfortably and affordably."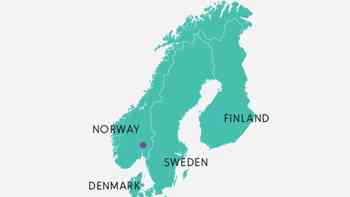 Collaboration benefits the entire market
The partnership has benefited not just Norwegian but the entire market. As more American travellers become aware of the brand, the airline has taken that positive attention and focused it not just on Scandinavia, but on Europe as a whole. This year, the airline has started new services to Paris and Barcelona, with several other EU gateways lined up. However, Norwegian also continues to look to increase frequency from their Avinor Oslo Airport gateway in the future.
Barnes concludes that this is a template for winning solutions. "By working together and pooling resources, we not only captured more market share for Norwegian, but in fact grew the overall size of the market to Norway."
Key numbers:
31% increase in travel on USA-Norway routes
6x increase in Norway sales by US-based tour operators
37% increase in American guest-nights in Norway (2013-2104)
"Best destination marketing award" for Innovation Norway in 2014 and 2015


Want to learn more about marketing support for routes to Norway?
"It's important to think big and look to ride cultural waves."
– Hege Vibeke Barnes, Director, Innovation Norway New York & Visit Norway North America