Cameras read the license plate. No need for paper tickets or to pay upfront. You just drive in. Follow normal parking regulations, such as signage for reserved parking. Pay with phone, payment machine or invoice.
Indoor parking P10
P10 is an indoor p-area at Oslo Airport. It is recommended for travelers who want a comfortable roofed parking with immediate proximity to the terminal.
P2
P2 is an outdoor area recommended for long business trips or family holidays. In advance, you are guaranteed space for a good price!
P4 and P6
P4 and P6 are the outdoor parking area recommended for long journeys and for customers who want reasonable parking. In advance, you are guaranteed space.
Order parking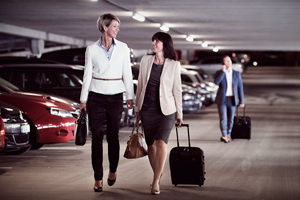 Book in advance and get the best price!