You do not need a parking ticket. You will not get a parking fine for missing payment, but do remember to follow normal parking regulations, such as signage for reserved parking. Below we will explain how you can pay. You do not need to pay if you are transferring in the parking area within a few minutes, see signs on site for transfer time.
Pay with your phone
You can use the mobile phone as a payment machine. At https://flow.apcoa.no/ you can pay within 48 hrs after exit. Type in your vehicle registration number and pay with card. You do not have to set up a user profile. If you wish to be automatically charged for the parking the next time, you can set up a user profile.
Download the Apcoa Flow app
Download on the App Store (iOS)
Download at Google Play (Android)
Payment machine
On site there is also a payment machine if you prefer to use this. Type in your vehichle reg. number just before you exit the car park, and pay with card or cash.
Invoice
If we have registered no payment within 48 hrs after exit, the car owner will receive an invoice. The invoice will contain the parking duration in addition to an invoice fee (kr 49,-).
Frequent user groups at the airport
If you belong to one of the frequent user groups for parking at the airport, we have automated solutions for you. For example employees, contract parkers and so on. These groups will experience seamless parking without having to utilize the above mentioned payment methods.
Order parking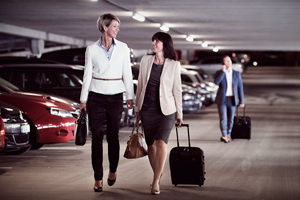 Pre-booking makes the journey a little easier!