Norwegians are famously informal and treat each other as equals. As a result, business culture is less formal, too. Everyone is on a first-name basis, knows what's going on and gets a say. It's how business is conducted in Norway, and how Avinor does business. By being inclusive and offering a relaxed business environment, we shrink cultural barriers and create a comfort zone that makes us approachable, and networking more enjoyable.
Friday waffles at the office is "kos"


"Kos" makes life even better up here in the north. The word is filled with warmth, togetherness, and laughter. "Kos" takes many shapes: Like cozy gatherings around candlelit kitchen tables, Friday waffles at the office, or holding hands under the starlit northern skies.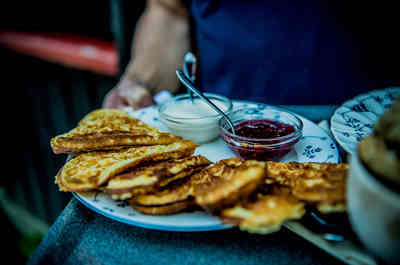 Waffles served with jam and sour cream. (Photo: Thomas Rasmus Skaug)

Bergen is walkable and relaxed


Bergen literally bristles with "kos" locations that are perfectly suited for informal networking. The city centre's compact size makes it great for walking. And using your feet is more practical than any other mode of transportation.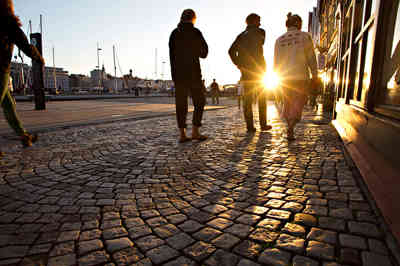 The rustique cobblestone streets of Bergen requires comfortable shoes. (Photo: Kaitlin-Bailey/Matador Network/fjordnorway.com)


Walking also gives you the perfect excuse to try out two of Norway's cultural markers: climate-suitable footwear and an "informally chic" dress code.
Norway is probably Europe's least formal country. Our appreciation of nature is expressed in how we dress. Women wearing office attire with running shoes on their way to work is a common sight, and even the best restaurants won't object if you wear jeans – as long as they are fashionable.
The main venue Grieghallen is within easy walking distance of the hotels. So, bring your walking shoes – and feel free to loosen your tie.


Sample the lifestyle


For Routes Europe 2020, we invite you to taste a different life. In Norway, business communication is easygoing and informal. Equality, a strong sense of individual value and a measured work-play balance, explains why Norwegians consistently rank among the happiest people on earth.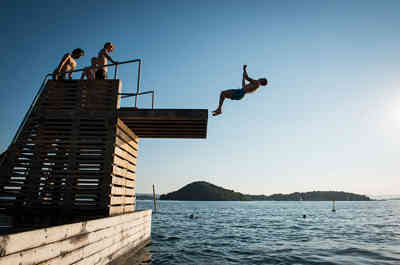 Summer evening in Oslo, at Sørenga Seawater Pool. (Photo: Kathrine Lunke/VisitOslo)


Only 3% of Norwegian employees work long hours.


Household incomes are among the highest in the OECD.


Norway has a high degree of gender equality and very low gaps in earnings
(Source: 2017 OECD Better Life Index)

Norway's Working Environment Act limits working hours to not more than eight per day and 40 hours per week. There are ten national holidays annually, and all employees are entitled to 25 days of paid leave per year.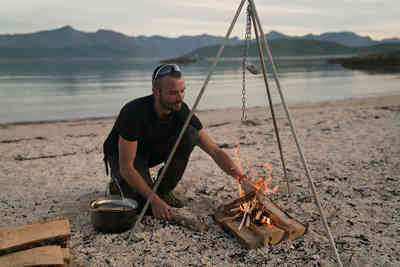 A meal cooked over the bonfire tastes simply marvelous. (Photo: Alexander Benjaminsen/Visitnorway.com)

Many Norwegians spend their spare time on "friluftsliv", which translates as "outdoor life". The term became popularised around 1850, when Norwegian poet Henrik Ibsen described the value of spending time outdoors for spiritual and physical wellbeing.
Since 1957, an Act of Parliament has guaranteed public access to all uncultivated land, including private properties.


Family and spouses are truly welcome


Norway is a family-friendly society. After childbirth, the wellbeing of both parents and offspring is taken care of through required paid leave for both parents. Children's healthcare and education is free until the age of 18. As a result, family life thrives, and exploration of the natural world is a favorite recreational activity. Backpack harnesses and ski-sleds for children see significant sales in Norway's sport goods stores, as do children's trekking boots and skis.
We invite you to take a day off after the conference, to gain a whole four days to explore Norway.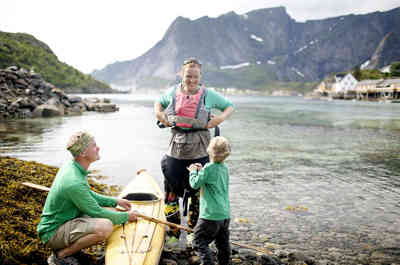 Kayaking in Lofoten (Photo: NTB Scanpix)
There's an expression: "Norwegians are born with skis on their feet". Kids learn to ski almost as soon as they can walk. But there are plenty of fun things to do for visiting families in Norway, with or without skis.
Visit Norway's child-friendly program ranges from hiking on Europe's largest glacier Jostedalen, to the Via Ferrata Loen, to more restful cabin holidays.