Avinor airports – a network of opportunities
Avinor offers airlines rich market development opportunities, via its hyper-connected aviation network. Through this network of 44 Norwegian airports, we provide access to Norway, the Nordic countries and the Baltics. But we offer much more than just infrastructure – learn more about our award-winning marketing partnerships with organizations such as Innovation Norway.
Norway has both vibrant urban life and some of the most remote, unspoiled natural wonders of the world, yet all of it is surprisingly accessible. Avinor's well-connected national network of airports provides the smartest solution to Norway's long distances and geographic extremes.
Extreme contrasts
Efficient transportation is important in Norway, helping people to reach even remote areas in a country filled with contrasts. Although most Norwegians live in urban areas, rural Norway's many beautiful, remote villages remain alive and well. The distinctive dialects and traditions of these places create a strong cultural asset and enriches the foundation for tourism.
Learn more about the Norwegian market here.
Extensive aviation network
Avinor's 44 airports in Norway make up one of the most hyper-connected aviation networks in the world. Our airports are closely linked, with up to several departures hourly between the major urban centres. As a result, Norway has half of the Nordic region's 25 busiest airports. Three of the domestic routes are among the ten busiest routes in Europe.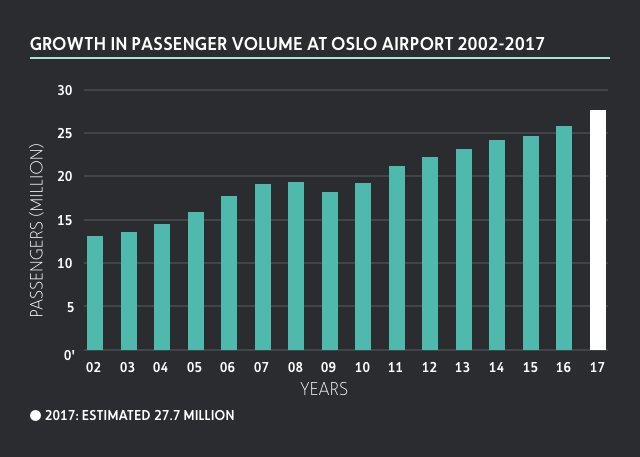 Growth in passenger volume at Oslo airport 2002–2017
Easy access
Our network is anchored by B737-capable airports located strategically around the country. This all adds up to easy domestic and international access in one of the most dynamic regions of the world.
Avinor's B737-capable airports in Norway are located in:
| | | |
| --- | --- | --- |
| Oslo | Bodø | Kristiansund |
| Bergen | Harstad/Narvik (Evenes) | Molde |
| Trondheim | Røros | Kirkenes |
| Stavanger | Bardufoss | Tromsø |
| Kristiansand | Lakselv | Alta |
| Ålesund | Andøya | Longyearbyen |
Highly efficient
Avinor's airports are highly effective, performing at an average regularity of 99 per cent and a punctuality rate of 87 per cent. With efficient operations, our costs are well-managed: for example, Avinor's airports came out best in a recent comparison of the development of European airport charges. Read more about our charges.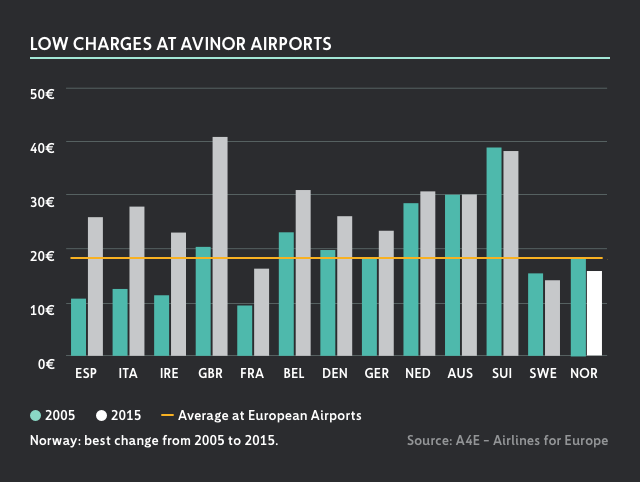 Low charges at Avinor Airports.
Key international airports
Avinor Oslo Airport is the largest airport and international hub, with over 50 per cent of air traffic within Norway and 70 per cent of all international traffic. In 2016, the airport processed 25.8 million passengers in 230,000 passenger flight movements. In the same year, there were 8,200 cargo flight movements at Oslo Airport.
Stavanger, Bergen and Trondheim have significant international traffic. There is some international traffic at several other airports, including Kristiansand, Ålesund, Molde, Bodø, Harstad/Narvik (Evenes), Tromsø, Alta and Longyearbyen.
The runways at Oslo Airport measure 2,950 and 3,600 metres. At the other major airports, the runways are between 2,400 and 2,800 metres, meaning they are usable for operating large jet aircraft, such as the B737.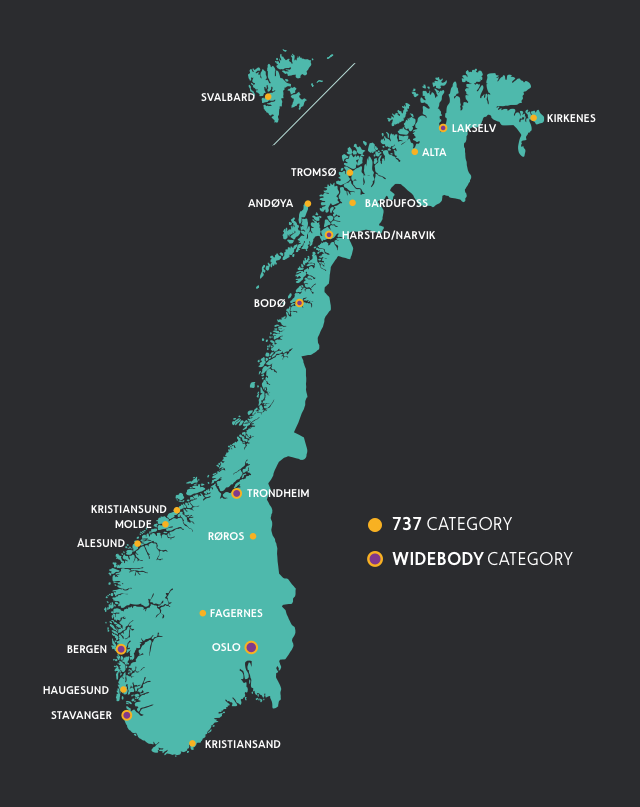 Upgraded transfer experience
We have expanded our transfer system from international to domestic flights at Avinor Oslo Airport. Passengers can transfer without having to collect their luggage, check in and go through security again, regardless of route combination.
Want to explore the different opportunities within our network?
Reach out to our Traffic Development team.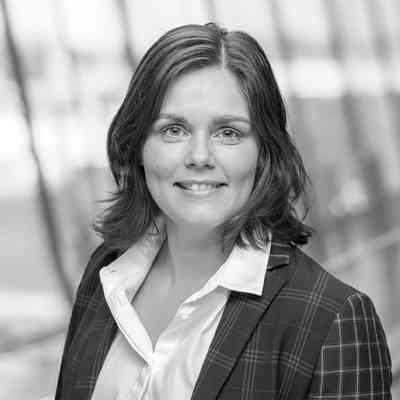 Contact
Head of Aviation Marketing, Deputy Vice President Traffic Development
Silke Salbert