Norwegian market
Welcome to one of the world's most distinctive and traditional – yet dynamic – regions. In Norway, respect for traditional values meets a futuristic worldview. The result is modern infrastructure, broad wealth and a highly grounded culture.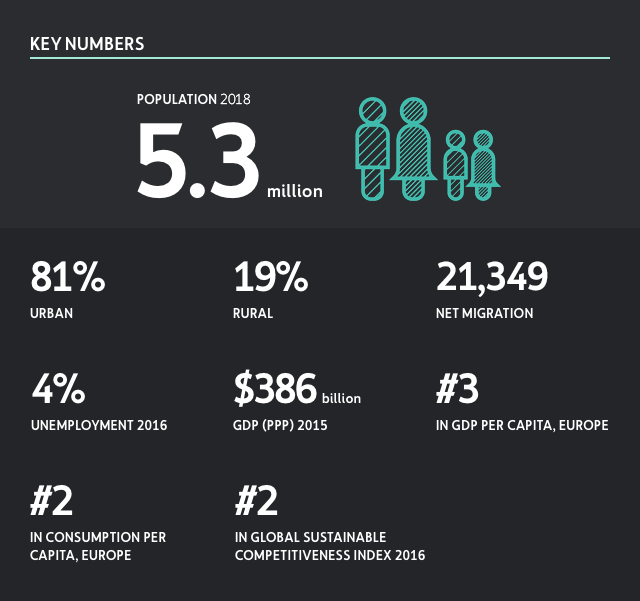 Broad wealth and high disposable income
The energy, telecom, maritime and natural resources sectors have been important to Norway's economic development and growth. From this foundation, Norway is fast developing a reputation for innovation in all areas, from business to culture.
The financial security experienced by the average Norwegian significantly strengthens Norway's air travel market. Modern Norway is prosperous, urbanised and has a diverse population. Income and wealth are broadly distributed, compared to most industrialised countries. The World Economic Forum's 2017 Inclusive Growth and Development Report highlighted Norway's economy as the best in the world. Norway also topped the UN's 2017 rankings of the world's happiest nations.
Norwegians are wealthy and secure (2017 rankings)

| | | | |
| --- | --- | --- | --- |
| Rank overall | Economy | Overall IDI score | 5 year trend IDI overall (%) |
| 1 | Norway | 6.02 | 1.87 |
| 2 | Luxembourg | 5.85 | -2.49 |
| 3 | Switzerland | 5.75 | 1.85 |
| 4 | Iceland | 5.48 | 4.58 |
| 5 | Denmark | 5.31 | 1.03 |
| 6 | Sweden | 5.30 | -0.84 |
| 7 | Netherlands | 5.28 | -1.69 |
| 8 | Australia | 5.18 | 0.29 |
| 9 | New Zealand | 5.09 | 3.75 |
| 10 | Austria | 5.05 | 0.28 |
Source: World Economic Forum, Inclusive Growth Report 2017
Everyone travelling more
Travel is deeply rooted in the Norwegian culture. Trips abroad have increased from 4.5 million to 7.2 million per year between 2002 and 2015. Of these, women travel more often than men and have a higher holiday budget, making them a key segment for the travel sector.
Foreigners are travelling to Norway more often to see its natural wonders, cultural highlights and seven UNESCO World Heritage Sites. In 2016, Norwegian hotels registered a total of 22.8 million guest nights, a 4 per cent increase from 2015. International guest nights grew by 10 per cent.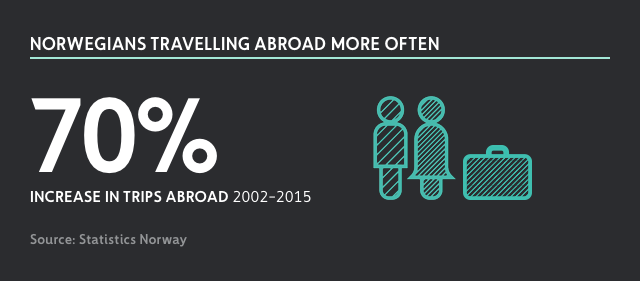 Six major markets
From the aviation marketing point of view, Norway is not merely a single market. The country is best seen as six major regions. Learn more about our network of opportunities.
Oslo: Fastest growing hub in Scandinavia
The fresh pioneer spirit of Oslo is creating an international attraction and aviation hub. Norway's fast-growing, governmental, economic and cultural capital. A uniquely compact global city on the rise and one of Europe's youngest capitals. Here, leading businesses and a fast-growing start-up scene thrive in an innovative and inspiring cultural centre. Oslo is a fountain of innovation in business, culture, the arts and sustainable living.
Bergen: Gateway to the fjords and a global maritime centre
Boasting a vibrant maritime and energy sector, the Bergen region is also the portal to world-famous natural tourist attractions. The city of Bergen is a global maritime industry hub and a rising clean energy centre, with a focus on hydro and wind power. With its direct access to the famous Norwegian fjords, Bergen attracts a growing number of tourists from around the world.
Trondheim: Where future meets nature
The Trondheim region offers an exiting blend of gastronomy, scenery and science. Trondheim, which anchors the mid-Norway region, is bustling in business activity and cultural attractions. Trondheim is a vibrant city with 45,000 students at its universities and research institutions. Since the GSM mobile phone standard was invented here several decades ago, the city has been the spark for Norway's knowledge economy.
Stavanger: Unlimited energy and tourism
Stavanger, Europe's leading energy region, is also going through exciting developments in business and tourism. The Stavanger region is Norway's third largest urban area, with about 400,000 residents, 130,000 of them in the city. The area has generally been Norway's most successful economic region.
Northern Lights: Unparalleled Adventureland access
Northern Norway offers the world's best access to the Northern Lights experience and a unique coastal culture in an unspoiled natural environment. Northern Lights tourism is growing in Northern Norway, where the lights are visible more often than anywhere else in the world.
Cargo: Seafood set to hit new records
Norway's seafood industry is surging forward, increasing its reach westwards and to the far east. Already dominating the European market, the highest seafood export growth rate now takes place outside the Schengen economic area. The fastest growing export markets in 2017 were USA, Vietnam and China. Seafood export value doubled from 2014 to 2015 and increased another 23.9% to 2016. The world's largest seafood terminal opens at OSL in 2020.
Want to explore the different opportunities within our markets?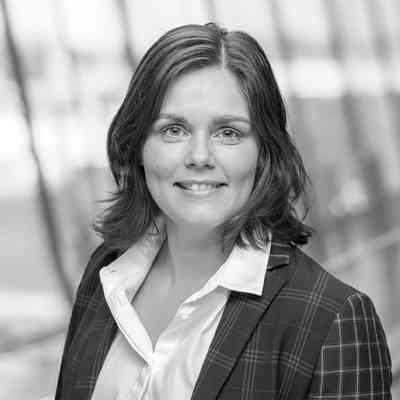 Contact
Head of Aviation Marketing, Deputy Vice President Traffic Development
Silke Salbert