"The Norwegian's love for the outdoors and the amazing landscapes Norway has to offer, is something that really resonates with me. The freedom to roam, that is protected by law, is something that is particularly unique, and really captivates the interest of Americans", says Alexander Groothaert.
Half Belgian, half American, and 100% outdoor guy, he was compelled by the opportunity to promote Norway to a North American audience. Since joining the Avinor Traffic Development team in September, he's now visiting Oslo for the third time. "I am super impressed by Oslo. Especially on my first visit, by seeing mountain bikes on the T-bane (metro line) going up to Holmenkollen – and back down again! It's also really fun to tell Americans about the concentration of electric cars, especially Teslas, in Oslo – and the reasons that electrified cars have had success here."
Electrek: After leading electric car adoption, Norway now aims to lead electric flight
His personal dream itinerary for exploring Norway includes surfing and backcountry alpine skiing in Lofoten, and a trip to Svalbard. "I have a love for extreme environments", he states. Work experience from Alaska Airlines and aviation operations planning in Antarctica, proves this is a man who walks the talk. Since having kids, he's also found a way to combine family life with outdoor experiences. This time, his wife and two young kids will fly from Seattle and join him on a family ski trip in central Norway. "We will spend the week in a cabin near Lillehammer, skiing and enjoying the winter."
The Telegraph: Why a ski trip to Norway could solve all your family holiday problems
At home, his leisure time is also spent on supporting young people with disabilities explore the mountains and hiking tracks of his home state Washington, as a rock climbing volunteer in the Outdoors for All Foundation. "It's really rewarding to help an individual achieve their goals. In this case, young people who have the same passion for nature and the outdoors, but just need a bit of support to get out there and enjoy it".

Professionally, he has big ambitions on behalf of the Avinor Traffic Development Team. "I think Avinor has all the pieces in play to set a new standard for airport systems: great cooperation with tourism industry partners, a strong and diverse traffic development team, world class airport infrastructure, and a forward-thinking leadership that is bringing positive attention to Norway's aviation industry through sustainability initiatives."
Are you ready to explore the Norwegian market?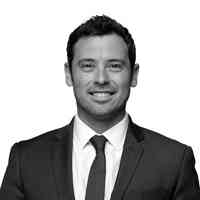 Contact
Director Traffic Development, Americas
Alexander Groothaert